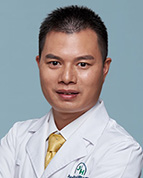 David JIANG, MD
Department:

Jiahui International Cancer Center
Medical Oncology

Location:

Jiahui International Hospital

Languages:

普通话,  English
Dr. David JIANG is an oncologist at Jiahui International Cancer Center. Dr. Jiang graduated from Fudan University in 2007 with master's degree in Clinical Medicine, and earned his Doctorate in clinical medicine in the field of Oncology in 2017 from Fudan Universty. Before joining Jiahui Health, Dr. Jiang has worked 11 years in the Department of Oncology, Huashan Hospital, Fudan University. He successively held the posts of resident and attending physician, and was promoted to vice-chief physician and associate professor in oncology in 2015. Dr. Jiang was occupied mainly with the chemotherapy, targeted therapy, immunotherapy and vascular interventional treatment of solid tumor, and accumulated some experience in comprehensive therapy of solid tumor, such as lung cancer, colorectal cancer, gastric cancer, primary and secondary liver cancer, pancreatic cancer, gallbladder cancer, esophageal cancer, breast cancer, and so on. He also performed the operation of totally implantable venous access port systems. Dr. Jiang has obtained certification of three and four-level comprehensive interventional diagnosis and treatment techniques for malignant tumor from Shanghai Medical Association. Dr. Jiang followed the comprehensive treatment concept based on the evidence of clinical trials (Evidence-based Medicine), and individualized precise diagnosis and treatment concept based on genetic test. He also paid attention to humanistic care for patients with tumor.



As for scientific research, he was dedicated to study of Evidence-Based Medicine and Immune Regulatory Mechanisms in malignant tumor. He has presided over youth fund of national natural science foundation of China (NSFC) and participated in many general programs of NSFC. Dr. Jiang was also funded by the first session of Shanghai Youth Physician Training Program and "HuaJing Prize of Huashan Hospital (a prize to encourage outstanding attending physician)". As the first author, he has published more than 10 peer-reviewed papers in SCI Journals such as Journal of Thoracic Oncology, Lung Cancer and so on, and several papers in authorative journals and core journals of China. Three of these papers were used as evidences of four Clinical Practice Guidelines or Expert Consensus published by American Society of Clinical Oncology (ASCO), European Society for Medical Oncology (ESMO) and American College of Chest Physicians (ACCP). He was also a peer reviewer for many journals, such as Journal of Cancer, Lung Cancer, Thoracic cancer, and so on.



Dr. Jiang is a current member of Chinese Society of Clinical Oncology (CSCO), and a member of Chinese Medical Association. He is also a committee member of the first session of vascular access expert committee of solid tumor focus diagnosis and treatment specialized committee of Shanghai Anticancer Association.