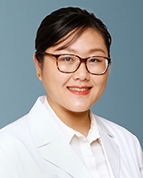 Cherry SUI, DDS
Department:

Dentistry
Pediatric Dentistry
Periodontics

Location:

Jiahui International Hospital (Shanghai)

Jiahui Health (Shanghai Yangpu)

Languages:

普通话,  English
Dr. Cherry SUI graduated from Harbin Medical University with a major in dentistry, and obtained her master degree of Periodontology. She is a Japanese IPOI certified periodontal. Dr. Sui was mentored by Professor Bi Jia Liang and is good at the treatment of various periodontal diseases. She has more than 10 years of experience in oral general practice.

Dr. Sui has been to Shanghai Ninth People's Hospital for several time for Children's oral diseases. She is specialized in children's dental treatment under general anesthesia, active pulp preservation of children's deciduous teeth, filling of deciduous teeth, root canal treatment of deciduous teeth, preservation of deciduous teeth space, occlusion induction of children, muscle function training, precrown restoration of anterior and posterior deciduous teeth, oral health care of children and other pediatric dental treatment.
She is also proficient in the adult oral treatment of minimally invasive dental fillings, root canal treatment, tooth whitening, veneer, porcelain crown repair and other various operations.