Your child's eyes are constantly developing. Regular comprehensive eye checks are the key to early discovery, treatment, and prevention of eye disease. Our eye doctor recommends that children aged 3–5 years old have an eye health screening every 2 years and children aged 6–16 have an eye check once a year.
The Child Eye Health Screening Package at Jiahui Clinic (Jing'an) is designed to protect the health of your child's eyes.
Pediatric Eye Health Screening Package
¥ 850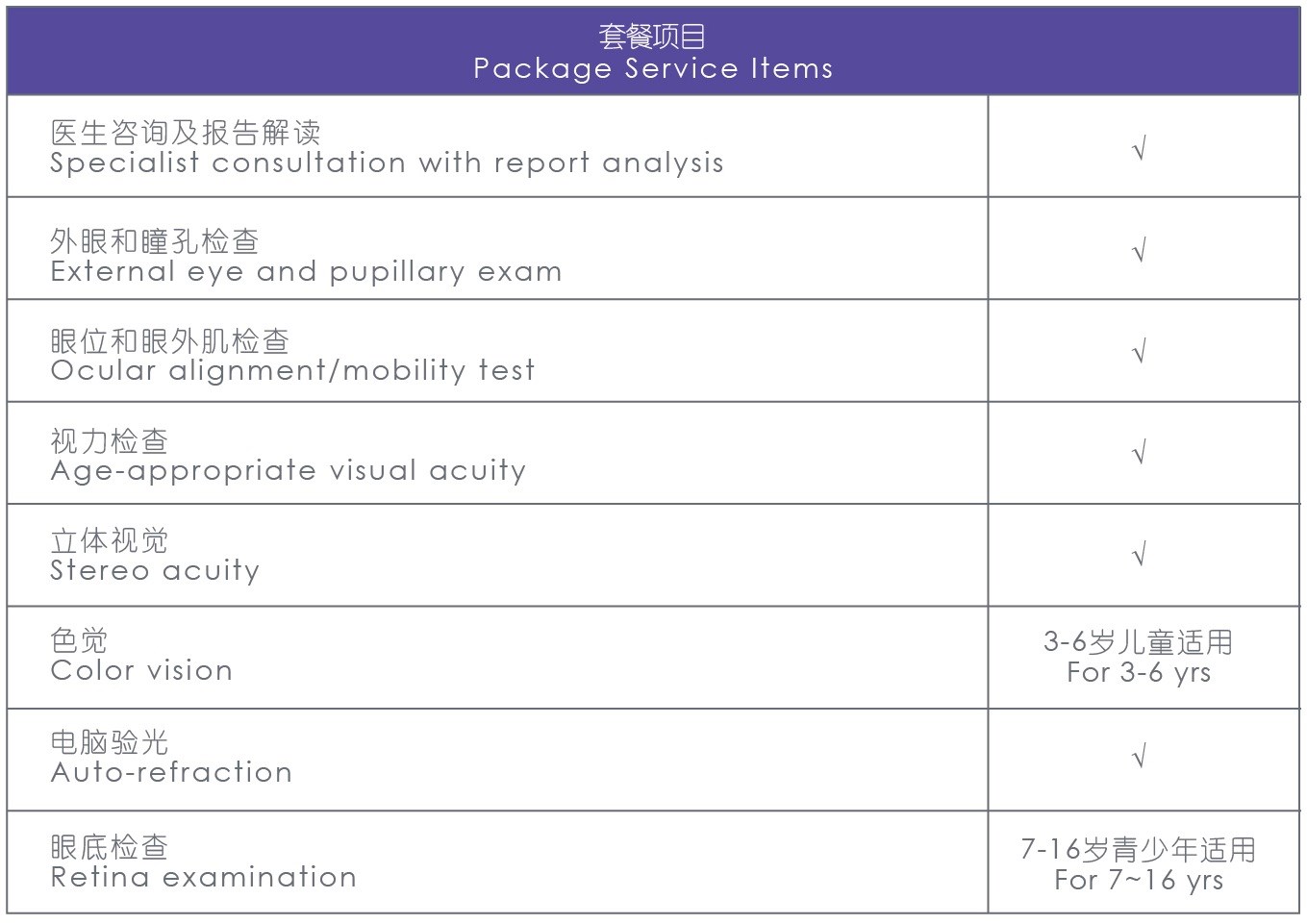 Specialist consultation with report analysis
Understanding your child's general state of health and family history of eye disease. If high myopia, astigmatism, glaucoma, color blindness, or other risks are present, your doctor will place special emphasis on carrying out related checks and thorough investigation.

External eye and pupillary exam
Checking your child's eyes for inflammation, blepharoptosis, ingrown eyelashes, and pupil nystagmus. The appearance of the pupils is checked, pupillary light reflex checks are performed, and any abnormal response of the eyes under light are noted.

Ocular alignment/mobility test
Checking eye muscle function to assist in the diagnosis of skewed vision.

Age-appropriate visual acuity
Checking vision in both eyes and evaluating vision changes and corrected visual acuity after lenses are dispensed.

Stereo acuity
A check for skewed vision or other stereoscopic functional problems to avoid accidents occurring in daily life due to inaccurate estimation of distance.

Color vision test 
Color test plates are used to screen for possible color vision deficiency or color blindness.

Auto refraction
Auto refraction results are used to assess eye refraction. For myopia, long-sightedness, or astigmatisms, corrective treatment is recommended to avoid continued deterioration of vision.

Retina examination
This examination is for early detection of congenital optic nerve or retinal abnormalities, lesions, or tumors.


*Package prices not applicable to insurance payments. 
*Special prices valid till March 31, 2020.
*Package prices not applicable to insurance payments.
To schedule your appointment or for more information, please call 400-868-3000