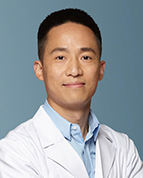 Louis PAN, MD, PhD
Department:

General Surgery
Thyroid Clinic
Surgery
Bariatric Clinic
Hepato-pancreatic-biliary surgery

Gastrointestinal and Colorectal Surgery
Proctology Clinic
Hernia Surgery Clinic
Bariatric Clinic
Thyroid Nodule Clinic

Location:

Jiahui International Hospital (Shanghai)
Jiahui Health (Jing'an)

Languages:

普通话,  English,  粵語,  Français
Dr. Louis PAN is a general surgeon at Jiahui Health. He obtained his PhD in General Surgery from the Chinese University of Hong Kong, with a research interest in minimally invasive surgical techniques. He has published more than ten academic research articles on major professional journals, including Chinese local and international peer review journals (SCI). Based on his research, Dr. Pan published papers and gave presentations at a number of international academic conferences (including 2015 World Congress of Surgery (WCS) and 2016 Digestive Disease Week® (DDW)). Dr. Pan obtained his master's degree in Surgery from Shanghai Jiao Tong University School of Medicine in 2005, during which he completed the internship and surgical training at Hopital Civil in Strasbourg. Prior to joining Jiahui Health, Dr. Pan was an attending surgeon in the Department of General Surgery at Shanghai Ruijin Hospital Luwan Branch. With nearly twenty years of clinical work in surgery, he has extensive experience in treating common diseases in general surgery, such as surgical procedure on thyroid lesions, laparoscopic operations on bile ducts and hernia repair. He received accreditation for the Da Vinci robotic surgical system.

Dr. Pan specializes in treating various diseases, including but not limited to:

• Thyroid/parathyroid conditions (benign and malignant), including using endoscopic approach without scar left in neck.
• Hernia, especially using minimally invasive surgical approach, laparoscopic hernia repair.
• Digestive diseases which need surgical interventions including emergent procedures, like biliary calculosis, benign gastrointestinal tumors and inflammatory disorders (appendicitis, diverticulitis and inflammatory bowel diseases)
• Perianal diseases, like hemorrhoids, anal fistula and anal fissure.
• Peripheral vessel diseases, including the varicose vein disorder at lower limbs.
License no. :110310000032459